MikeTM Manager Case Study with Chadha and Chadha, IP Attorneys
The Problem
Managing the trademark portfolio of clients is a mandatory activity as adhering to the deadlines and sending reminders to the client become fundamental to portfolio management. This process so far has been done manually which makes it prone to error. These errors are extremely critical and may even lead to the abandonment of the application leading to substantial financial loss to the client.
The Solution
MikeTM Manager is an automated tool to manage your entire trademark portfolio. It not just notifies about the important deadlines but also tracks and notifies all important changes made to your portfolio every week. This ensures that you don't have to manually track changes and deadlines, instead, you can simply focus on prioritising the work. By using MikeTM Manager you can forget about the data entry errors and make portfolio management scalable.
Client Profile — Chadha and Chadha, IP Attorneys
One of the most reputed Intellectual Property law firms in India, Chadha and Chadha, IP Attorneys was founded in 1967 and since then have more than 120 people across multiple offices in India in multiple cities including New Delhi, Mumbai, Gurgaon, Pune, Bangalore and Chennai. Their clientele comprises of a mix of Fortune 500 companies, multinational corporations and universities from around the globe.
Chadha and Chadha has implemented MikeTM Manager along with MikeTM Search and MikeTM Watch across each of its 10 offices in India.
The Process
One of the most reputed Intellectually property law firms in India, Chadha and Chadha with clientele comprising of a mix of Fortune 500 companies, multinational corporations and universities from around the globe, Chadha and Chadha has implemented MikeTM Manager along with MikeTM Search and MikeTM Watch across each of its 10 offices in India. Prior to adopting Mike TM Manager, attorneys at Chadha and Chadha, would spend up to 40 hours a week manually updating their records for each and every trademark. This used to be a critical activity as missing any deadline could lead to the trademarks being abandoned by the Indian Trademark Registry ("IPO"). While the firm was able to keep their marks updated, they soon realized that the process of manually updating is non-scalable as the amount of time spent on such mundane tracking activities would also increase as their portfolio grew. Above all the process was inefficient and time-consuming resulting in high opportunity costs for Chadha and Chadha.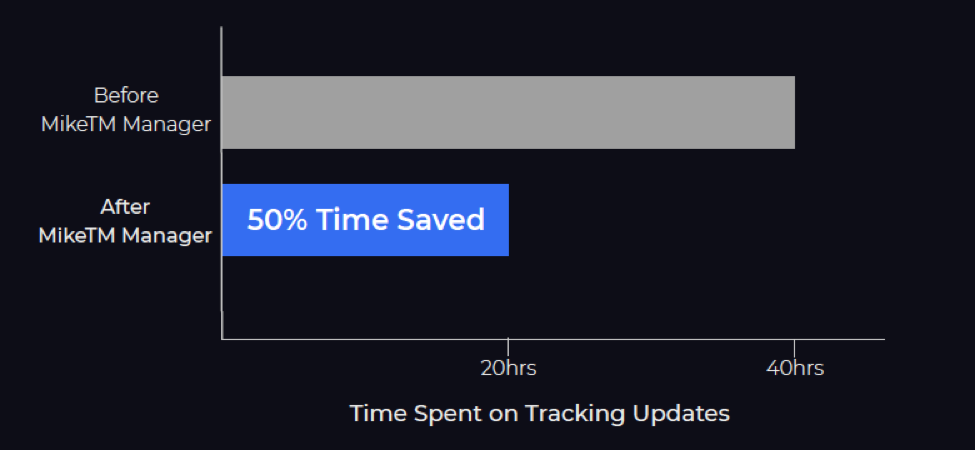 "The process in place for manually recording details of the portfolio while necessary was highly inefficient, which is why we decided to build MikeTM Manager to automate the management of these trademark portfolios in a cost-efficient manner." — Tushar Bhargava, Co-Founder, MikeLegal
Time is of the essence
Chadha and Chadha started using MikeTM Manager in 2019. MikeTM Manager helps Chadha and Chadha identify important deadlines and notifies the firm's attorneys regarding changes to its portfolio and upcoming scheduled oppositions and TLA hearings (as soon as the cause list is published by IPO offices across India), allowing them to allocate dates to the pending replies and preparation of the hearings. MikeTM Manager also organizes and tracks all sporadic correspondences received from and sent to IPO offices alleviating confusion and chaos in managing filing deadlines. This not only helps attorneys save time but also provides them with additional time to make certain filings and helps them prioritize tasks depending on the statutory deadlines.
"The automated weekly portfolio management report saves a lot of our time and ensures that managing deadlines becomes extremely easy and simple as it informs all the changes to our portfolio such as where examination reports are issued and changes of agent has been filed to name a few. This has helped us reduce 50% of our time spent on manually tracking the updates by automating such processes. Besides, we also receive updates before the IPO sends out the official notice giving us extra time to draft our replies." — Ms. Aaina Sethi, Partner Chadha and Chadha
Demystifying Data
MikeTM Manager provides attorneys with a graphical representation of their portfolio distribution based on important data points such as status, type and class to decode the portfolio and help them make important business decisions. For instance, data on status-wise distribution allows them to identify how their portfolio marks are doing. Moreover, class-wise distribution allows them to identify their hold on the sector and accordingly plan to either continue focusing on the same sector or diversify their practice.
Client Communication made easy
MikeTM Manager empowers the attorneys at Chadha and Chadha to create customised reports for their clients based on various search parameters such as the status of the mark, pending renewals and applications filed in last month and so on by just a couple of clicks. This is to the contrary to the earlier practice where client reports had to be created by cross-referencing multiple databases which may not have been updated. With the regular updates provided by MikeTM Manager, attorneys can now proactively update client with the changes to their portfolio which nurture client engagement.
"MikeTM Manager allows us to effectively engage with more clients at scale." — Ms. Sonal Madan, Partner, Chadha and Chadha
Cloud is the way forward
With the help of MikeTM Manager, Chadha and Chadha was also able to upload their entire portfolio on the cloud, ready to be managed from anywhere across India. This helped Chadha and Chadha move their operations from their offices to work-from-home seamlessly when the national lockdown was imposed due to Covid-19 pandemic.
"MikeTM Manager ensured that there was no difficulty in adopting work from home policies across all our offices and continued to help us to adhere to deadlines and intimate our customers regarding updates to their portfolio." — Ms. Swati Bhanot, Partner, Chadha and Chadha
To get a demo of MikeTM Manager you can send us a mail at [email protected] or visit www.mikelegal.com.