MikeTM Search Case Study with Chadha and Chadha, IP Attorneys
The Problem
It's no secret that the Indian legal industry is extremely fragmented and competitive with abundant well-reputed players and talented new entrants. The legal market in India has been growing at a steady pace over the past decade. With fierce competition, existing players struggle with the pressure to continually onboard new clients, nurture attorney-client relationships and deliver high-quality products despite the stringent (and even unreasonable) deadlines of clients, which invariably drives up overall costs.
The legal industry has historically been lagging behind, as compared to the other industries, in the adoption of disruptive technology, however, over the past few years, this has changed. High operating costs and increased competition has forced attorneys across law firms and corporate organizations to adopt and leverage efficiency promoting technology to gain an edge over their competitors and continually deliver high-quality products.
The Solution
Mike TM Search is a disruptive legal-tech product catered towards attorneys specializing in Intellectual Property. With its user-friendly interface combined with its proprietary AI-powered algorithm, it empowers users to search for existing trademarks, similar trademarks, trademark proprietors effortlessly and efficiently.
MikeTM Search helps entrepreneurs and attorneys identify an exhaustive list of trademarks that are similar in words, phonetics and images (soon to be launched). It also helps legal service providers generate reports relating to each mark with a simple click.
Client Profile
One of the most reputed Intellectual Property law firms in India, Chadha and Chadha, IP Attorneys was founded in 1967 and since then have more than 120 people across multiple offices in India in multiple cities including New Delhi, Mumbai, Gurgaon, Pune, Bangalore and Chennai. Their clientele comprises of a mix of Fortune 500 companies, multinational corporations and universities from around the globe.
Chadha and Chadha has implemented MikeTM Manager along with MikeTM Search and MikeTM Watch across each of its 10 offices in India.
Searching for a needle in a haystack
"The entire search process is needlessly laborious, time-consuming, uneconomical and dependent on the skills of the attorney." — Tushar Bhargava, Co-Founder, MikeLegal
For years, attorneys at Chadha and Chadha have diligently spent over 13 hours a week conducting trademark searches through the website of the Indian Trademark Registry ("IPO"), where they are forced to embark on a strenuous journey of manually searching for trademarks, similar marks and trademark proprietors within each of the different 45 classes, come up with possible permutations and combinations that may constitute a "similar mark" and spend hours generating corresponding reports for each such mark.
Further single and double letter searches are difficult to carry out on the IPO website since IPO's search tool does not provide for the ability to input a command that is less than 3 letters. This leads to spending more amount of time to determine the permutations and combinations which enable them to carry out searches for marks that contain less than 3 letters. In addition, the process of searching for device marks is extensive as users first have to identify the correct Vienna Codification prior to performing any search through the IPO search engine.
Krystal Klear
Where an attorney wants to search for a mark similar to the term 'KRYSTAL', they would first have to select a class that they believe a similar mark could be registered under, then they would have to select a parameter based on which they believe a similar mark could exist, such as "phonetically similar".
Despite this lengthy process of identifying a class, selecting a parameter and entering a three-character search command, the IPO's search tool would still be unable to identify 'CRYSTAL' as a phonetically similar mark and thus the attorney would be required to come up with all possible permutations of the word 'KRYSTAL' that may constitute as phonetically similar marks to ensure that nothing is missed.
Similarly, in case of proprietor search, the IPO's search tool discloses information limited to registered marks by such proprietor, thereby excluding altogether any relevant information in relation to the filing history of such proprietor which otherwise can be extremely useful at the time of litigation.
"One would need to conduct searches for the same mark across multiple classes one by one since the official website of Intellectual Property India allows only class-wise searches." — Ms. Sonal Madan, Partner, Chadha and Chadha
Easy Reporting
Once the attorneys at Chadha and Chadha have completed their search for the trademarks, similar marks or the registered proprietors, the attorneys would then generate reports for the marks that they consider relevant.
Further, the IPO's search tool is extremely slow in generating reports where the selected marks exceed 2,500.
Further, the IPO's search tool does not automatically filter out the invalid marks from the search reports making the entire process tedious.
"The reports, generated by the IPO, do not distinguish marks that are no longer active, either abandoned, refused, withdrawn or cancelled or no longer being pursued by proprietors and consequently unprocessed by the trademark registry. Attorneys are required to manually intervene and filter these reports for obtaining a final list of valid and active marks." — Ms. Swati Bhanot, Partner, Chadha and Chadha
Economy comes with Efficiency
"The primary advantage of using MikeTM Search is that instead of user thinking of permutations and combinations for the mark in a single class, the MikeTM Search algorithm does that for you across all 45 classes." — Ms. Aaina Sethi, Partner. Chadha and Chadha
Results derived using the proprietary MikeTM Search algorithm not only help attorneys save time but are also more comprehensive and accurate. Furthermore, each user can apply multiple filters to further distinguish their results, including filters such as: status, class and proprietors. The MikeTM Search interface is user friendly and gives attorneys an opportunity to customise all reports generated in relation to the marks. This ultimately helps legal service providers to improve and nurture their client-attorney relationship by reducing servicing time by nearly 40%.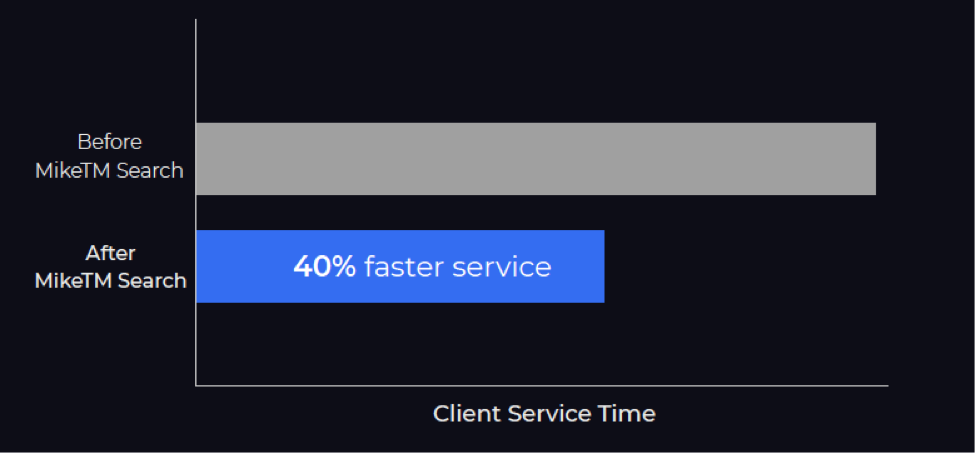 Besides, the proprietor search performed using MikeTM Search provides greater insights into the trademark proprietor's historic filings by identifying all the marks applied for and registered by such proprietor.
Also, MikeTM Search searches on the 'trading as' of the proprietor which allows corporations to check malicious proprietors using their brand name to trade. This is an additional check provided by the advanced trademark search algorithm created by MikeLegal to prevent brand dilution.
Prioritising Profits
Since performing a trademark search does not directly increase revenues of corporations or law firms as it is often categorised as an ancillary expense or a "non-billable" activity. Performing trademark search is nevertheless an important activity that cannot be disregarded, as prior existence of identical or similar marks may result in opposition at a later stage. This may prove to be financially detrimental to the corporations.
Hence, it is extremely critical for legal teams across law firms and corporations to conduct the searches meticulously while spending as little time as possible in order to effectively reduce direct and indirect costs.
Further, there are times when companies do not have access to all of their previous filings. MikeTM Search provides a remarkable capability to access all marks owned by such companies with ease securing access to these intangible assets with the help of a simple click.
"MikeTM Search plays a crucial role in empowering legal teams to reduce the time spent on public search and empowers teams to analyse data efficiently and effectively." — Anshul Gupta, Co-Founder, MikeLegal
Adoption of MikeTM Search has helped Chadha and Chadha not only reduce the amount of time spent on trademark search by 30% but also reduce the number of resources allocated to such non-billable activities by 10%. Attorneys at Chadha and Chadha now spend less time performing tedious searches and more time on business generation and billable activities.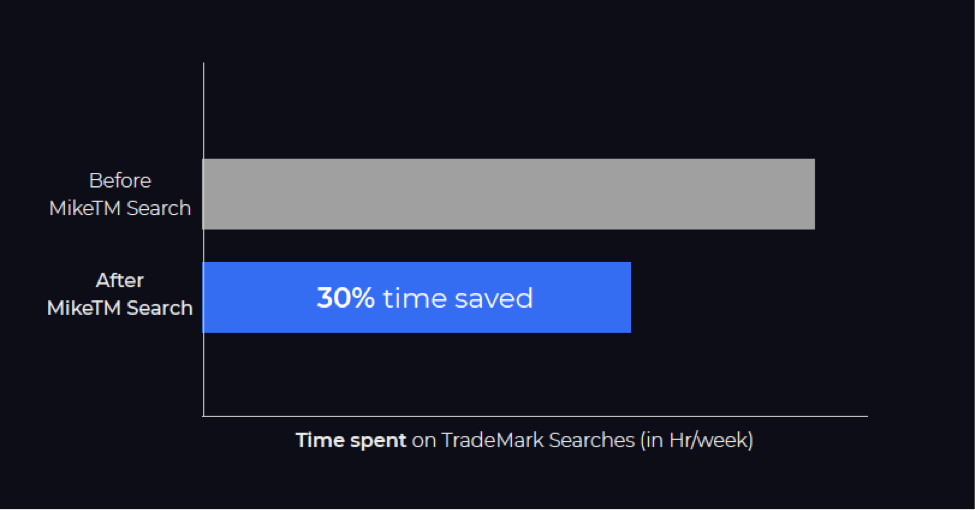 Further Chadha and Chadha's reliance on external sources to improve the accuracy of their trademark searches has reduced by 70% thereby reducing its overall costs and improving its overall profitability by almost 20%.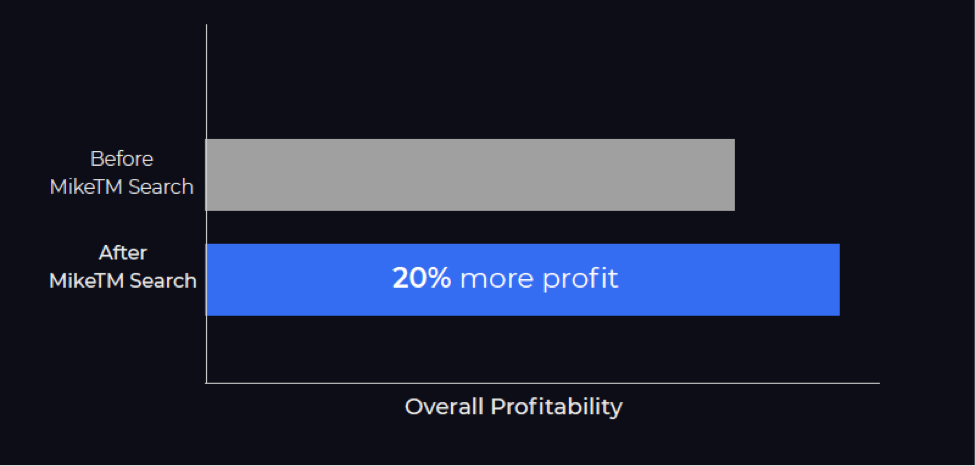 With the help of MikeTM Search, Chadha and Chadha is able to service their clients faster and more effectively, delivering higher quality and reduced-error solutions.