Legal Research — A Lawyer's Nightmare
Legal research, the indispensable process for a lawyer. It constitutes browsing through humongous archives just to find the right exemplar or a precedent to a legal query. It is fundamental to both, practicing lawyers as well as consultants advising their clients. You can say, it is the most important task in the life of a lawyer which even today continues to be very tedious and time-consuming. However, currently in India, legal research is not credited for its importance, and is generally, undertaken by the lawyer himself or his/her juniors including interns.
In law, nothing is black and white and is continuously evolving. Hence, it is a challenge for the lawyer to stay updated with the latest developments and changes in the law. It then becomes the duty of the legal researcher to ensure that the precise, correct, and updated information is extracted from the available voluminous pool of data. Although legal research has come a long way in the past few years yet there remains a substantial scope of improvement in improving the efficiency of legal research and in turn reducing the time spent on it. From going through endless legal books to using online legal databases based on keyword matching, a lot has changed with time and eventually everyone, regardless of the size of the lawyer, has chosen to stay updated with the changes. However, even with all these changes, lawyers have not been able to reduce the time spent on legal research.
Data below shows the effect of inefficient legal research on a law firm
Percentage of time spent by associates on legal research = 30% of their time x Average number of hours spent working daily= 10 hours
Time lost on ineffective legal research per associate = 3 hours daily or 90 lawyer hours monthly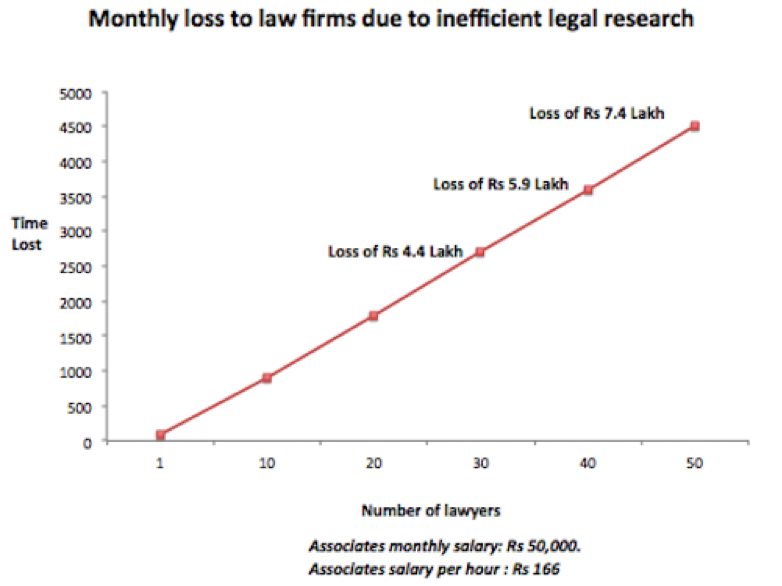 Furthermore, legal researchers are unable to select the most relevant dataset and usually go through a volume of data.
Current databases work on the primitive principle of 'keyword' matching which has failed to provide results based on contextual understanding. Hence, if we have to find cases on a particular keyword then we have to look for such keywords which could have been in the judgment. This also would not get the correct answer as a 'keyword' based search would not take account of synonyms or similar words. This in turn increases the time spent on legal research without guaranteeing the desired results.
Also, it is important for these legal databases to track the changes in law and make sure that they are staying up to date by removing or marking obsolete laws and precedents.
Furthermore, current Indian legal databases are not providing deep insights based on the information available to help legal researchers in selecting the most relevant set of data.
These issues indicate that a lot of innovation is still required in the legal research domain. One of the ways to improve the legal research is to use artificial intelligence in these legal databases to ensure that only the contextually correct relevant part of data, instead of the entire data as shown currently, is shown to the legal researcher. This will save the time of the legal researcher. Furthermore, the use of tools like analytics and predictions will help legal researchers in tracking the usefulness of the information and evaluate the applicability of the research. It is also important for the legal researcher that obsolete laws and precedents are not selected to maintain the quality of research.
There is a widespread notion that law is at a very nascent stage and lawyers tend not to adapt to the latest technology. However, time and time it is seen that they have, indeed, stay updated with the technology in order to make sure that they don't turn obsolete. It is important for lawyers and legal researchers to understand that new technology will not eliminate them but will help them improve their legal practice and manage their resources and time efficiently.
Authored by Tushar Bhargava, Co-founder, MikeLegal